Customised Steel Barn Style and Farm Sheds, Built Locally on the Sunshine Coast
Enjoy comprehensive, tailored services when you choose Superior Garages and Industrials for your barn shed requirements.
Servicing the Sunshine Coast and Gympie regions.
Australian Steel Farm and Barn Sheds
Barn sheds are an excellent, effective and attractive option for storage requirements in both residential and rural settings. Their huge interiors allow for a wide array of uses, with more than enough room to safely store assets, equipment and vehicles.
As the local steel building experts, Superior Garages and Industrials offer range of Australian and American style barns, complete with full customisation options to ensure your barn meets your needs. Backed by over thirty years of experience in the industry, our team can turn your needs into a beautiful barn shed. Enjoy site-specific engineering and exceptional flexibility to tailor your barn's exact measurements and specifications, including any extras you may want or need fitted to your barn shed.
We pride ourselves on using only the highest quality materials. All our sheds are constructed on site by our fully qualified, highly experienced tea, ensuring the project is always completed on time, on budget, and to the highest standard. All of our sheds are built with high-quality, genuine Australian steel.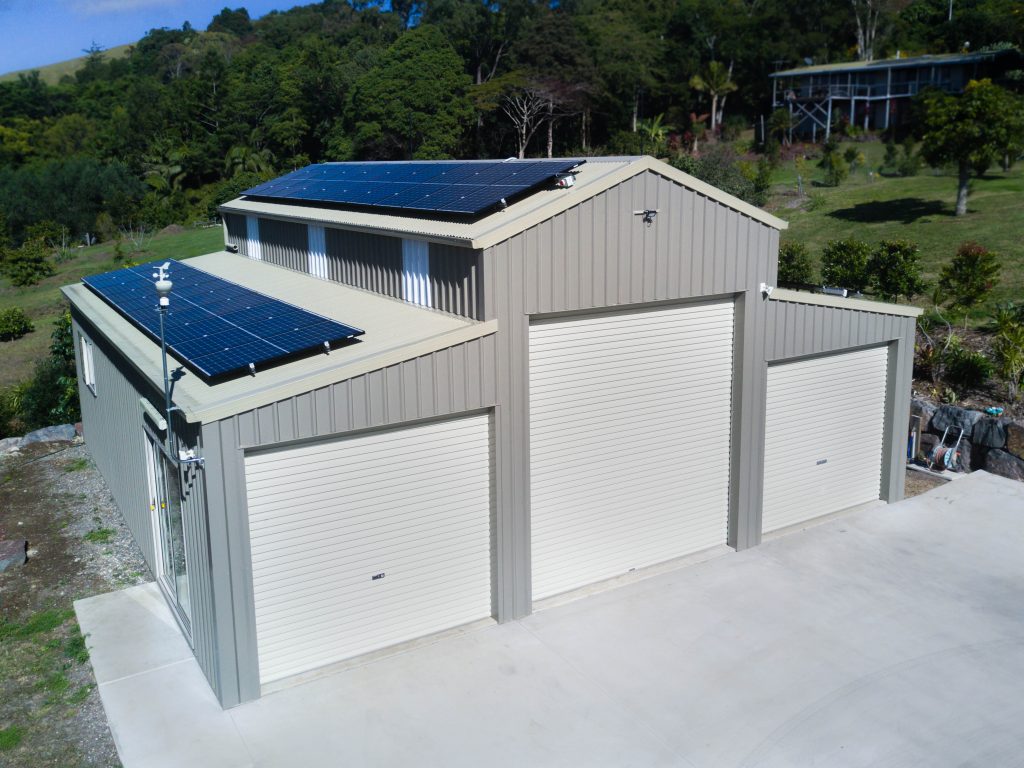 Popular for their diversity and multitude of uses, barn sheds are a great addition to any residential or rural landscape. Superior Garages and Industrials specialise in steel building and construction, and our expertise allows us to provide our customers with fully-customised solutions.
Built with only the best, locally sourced, high-grade Australian steel, our sheds are made to stand the test of time – and the Sunshine Coast's hot and temperate climate.
Our professional and experienced team will take each of your needs and concerns into account when designing your shed and can incorporate a vast range of customisation options, such as adjacent bays, roller doors, and colour coordination to suit any existing buildings.
Start Your Barn Shed Project
Sunshine Coast Farm and Barn Sheds
American and Australian Barn Style Sheds
Often referred to as a heritage or traditional-style barn, American barn sheds are characterised by a distinct raised drop in the central bay, typically coupled with a gable roof and symmetrical awnings. In contrast, an Australian barn does not have a central drop but still incorporates internal columns.
The final design and all customisation options remains dependent on your needs and requirements. Superior Garages and Industrials can provide a range of barns, barn-style sheds, hay sheds, storage sheds, and other structure types to suit your requirements. If you want classic Aussie barns or plenty of storage space, you've come to the right place! Work with SGI for greater peace of mind. 
Our design flexibility means you can add an array of optional extras to your barn shed to improve and increase its functional options. This includes great facilities like: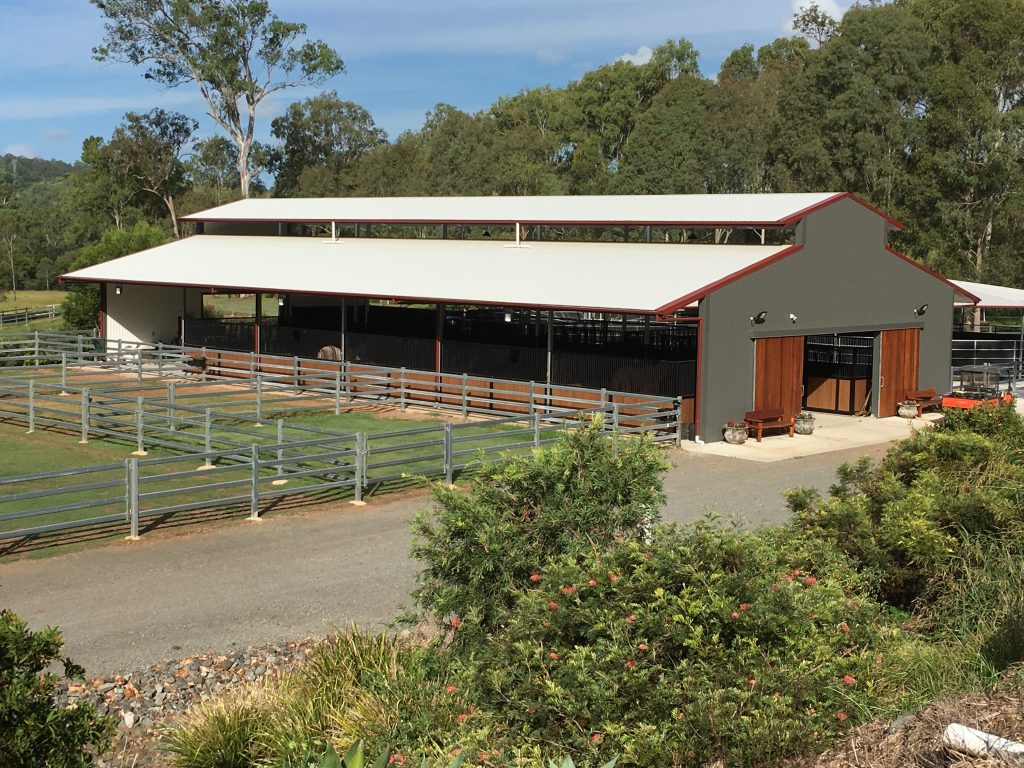 Our Barn Sheds Are Built Tough
Big or small, long or tall, Superior Garages and Industrials can do it all. Our steel barn sheds are custom designed to suit your needs. With a wide range of options, quality materials and experienced fully qualified workers, why wait? Start designing your own barn shed today!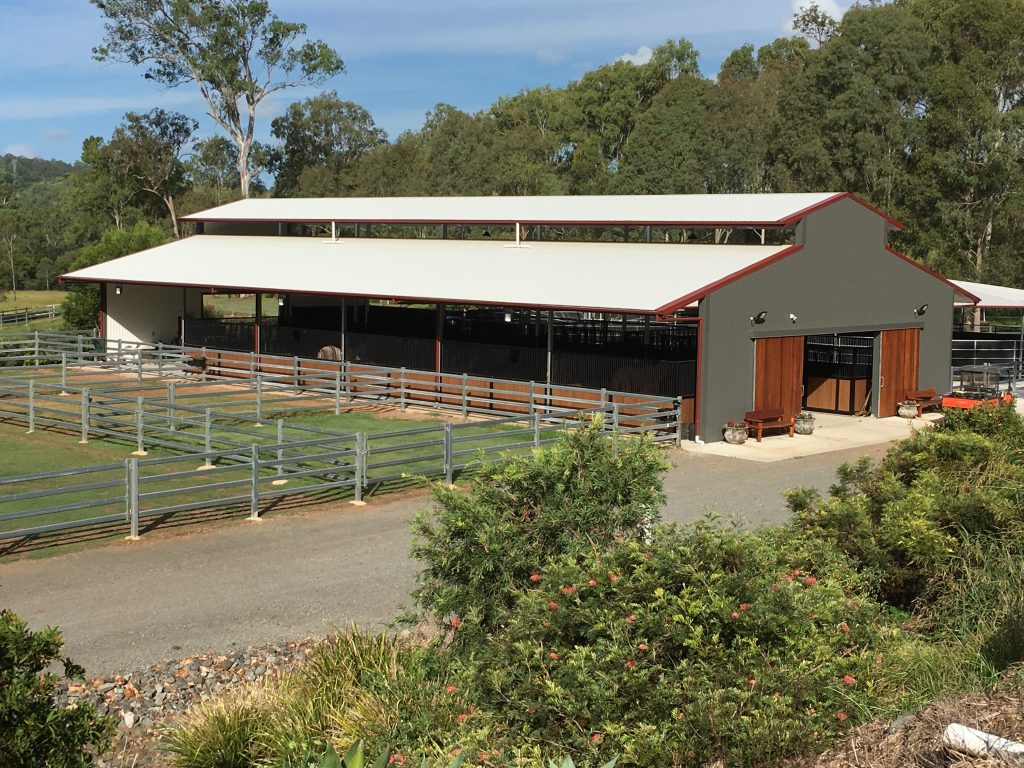 Affordable, Local Barn Shed Builder
With attention to detail, we can create the highest quality structure that will stand against the test of time, while keeping costs low and construction times to a minimum. The efficiency of our construction creates drastically fewer interruptions and less downtime for your business.
When compared to timber expansions, which are expensive and take a long time to build, it is apparent that steel carports are the most cost effective alternative for expanding your business.
With over 30 years of experience in the shed building industry, we have seen it all. And something that has served us well through these years is our honest and upfront costing policy. With SGI you will never be hit with "hidden fees"
Often, dodgy shed builders will tack on these sort of hidden costs not presented to you in the quote towards the end of the build. Often left tired by the building process, owners are swindled out of extra dollars as the dodgy shed builders add costs for work unseen or unquoted for.
SGI is committed to having no hidden fees for any of our shed construction. Our objective when embarking on your shed build will be to understand your needs and requirements to provide you with a solution that suits your need in the most productive manner.
Another way we avoid potential budget blowouts is to buy quality Australian materials from quality Australian suppliers. We make Australian's sheds from Australian parts With our experience managing construction and years of working with local councils, you can relax while your shed project is done right with superior service!
The name we operate under says it all – if you are interested superior quality and service for you barn shed, contact us today to get your shed build started.
Get a Quote
Don't delay your shed build - get in touch with us today for a fully personalised quote!
High-Quality Farm and Barn Sheds
Choose SGI for Your Shed Needs