Storage Shed Builder and Garden Shed Builder
AUSTRALIAN-MADE STEEL STORAGE SHEDS & GARDEN SHEDS
Safely Store Important Items Like Gardening Equipment, Recreational Vehicles, Tools and Machinery in a Fully-Custom Steel Storage Shed.
Superior Garages and Industrials Build to Your Needs.
PREMIUM-STEEL BUILT SHEDS AND STRUCTURES
Custom Steel Shed Installer and Manufacturer
Highest Quality Sheds, Garages and Steel Buildings | Colorbond Steel Commercial and Domestic Sheds | Industrial Shed Construction and Erection
Do you need a custom storage shed with installation included for your Sunshine Coast home or business? If so, you've come to the right local storage shed builder.  
Superior Garages and Industrials are your local steel building experts providing tailored steel shed solutions for each and every one of our customers. Our custom storage sheds are built using only the highest-quality, locally-sourced materials and our wealth of building and industry experience means you can trust us for any size job – residential and commercial. 
Combine that with in-house shed design and engineering capabilities, and Superior Garages and Industrials becomes your one-stop steel shed solution.
Built with only the best, locally sourced, high-grade Australian steel, our outdoor storage sheds are made to stand the test of time – and Australia's hot and temperate climate. Our professional and experienced team of shed installers will take each of your needs and concerns into account when designing your new storage shed. We can incorporate a vast range of customisation options, such as adjacent bays, roller doors, and colour coordination to suit any existing buildings.
Why Should you Build your New Custom Storage Shed with Steel?
Many traditional backyard storage buildings are made out of wood, even though they're located in the yard. This means that all manner of insects and pests have free reign to move into your shed, chew through your boxes, and consume all the goods inside – not being able to find their way back out again. Steel garden sheds are pest-proof, which means that the only creatures with access are those you want.
Wood is flammable, so storing any items in a traditional storage building means risking their exposure to potentially lethal heat and flames. A steel outdoor shed, on the other hand, will not catch fire under any circumstances – making it safer than garden sheds made out of wood or even plastic!
As a garden shed builder, Superior Garages and Industrials has the experience and expertise needed for getting backyard storage sheds installed correctly and to the highest standards. Our shed installers design and build custom sheds that are perfect for any purpose: steel storage sheds, livestock buildings, workshops, and more. We'll work with you every step of the way to determine your needs and create a plan that works best for you. Our range of steel shed options means that just about any requirement you have can be met. 
Quality Backyard Storage Sheds Installed & Built Locally.
Get in contact with our team for a shed building solution tailored for you. 
STEEL GARDEN AND STORAGE SHED BUILDERS
High-Quality Outdoor Storage Shed Installation with Guaranteed Satisfaction
Whether you're a commercial builder, landscaper, or a DIY enthusiast, Superior Garages and Industrials will help you with the design and installation of your very own storage shed. As long-standing steel building experts, we supply and install all kinds of steel sheds, for all kinds of purposes! Steel sheds can be used as workshops, storage spaces, carports, garages, barns and more. We build custom-designed steel sheds that are tailor-made to suit your needs in a wide range of sizes and styles.
Our shed installation team is experienced, knowledgeable and friendly; we're here to help you with all your steel shed installation needs. We'll discuss your project with you in detail before providing you with a quote that's tailored to your budget and specific requirements. All of our sheds are manufactured using tough materials that are designed to withstand the harsh Australian climate.
We can create basic sheds or help you build a totally unique and customised shed specifically for your requirements and offer many additional customisable features on all our sheds, such as insulation,,roller doors, glass windows and multiple personal doors. If you're looking for a steel building in the Sunshine Coast region, contact us today to find out more about our product lines and how we can help you get what you need at an affordable price.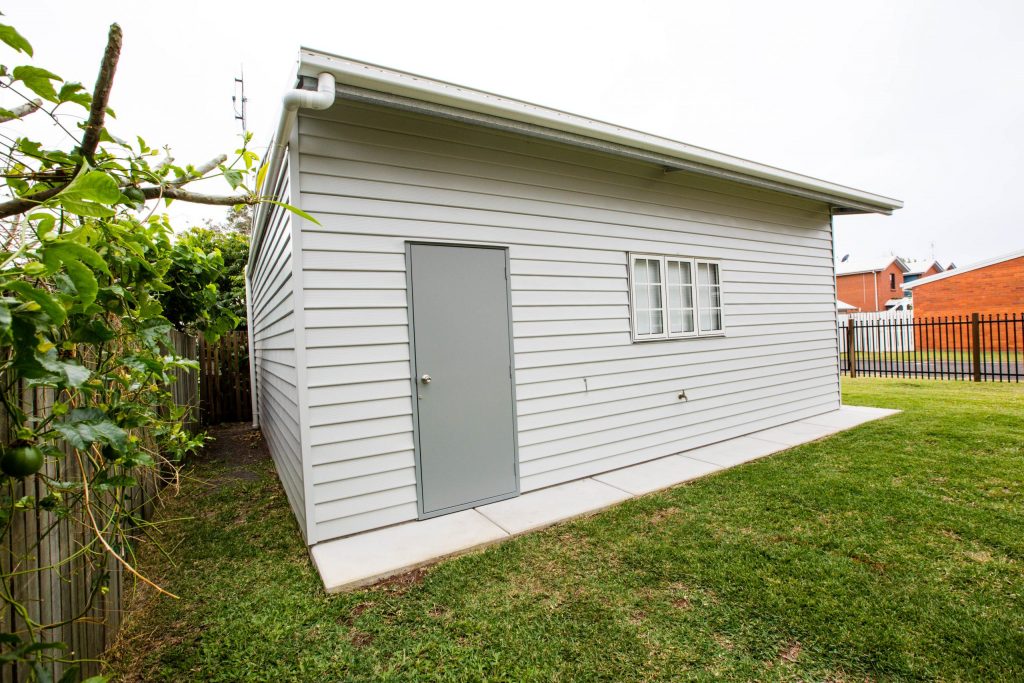 Custom Steel Storage Shed Installation
Superior Garages and Industrials offer a wide range of outdoor storage shed building options. Other shed builds we can assist with include:
Dealing with the Sunshine Coast Local Council can be a daunting task for the uninformed. At Superior Garages and Industrials (SGI), we are the coast's leading expert shed installer. Our team are completely practiced with the rules implemented by Sunshine Coast Council and Queensland Building and Construction Commission.
According to the Sunshine Coast Council's website regarding sheds, if your shed meets the following conditions, then it does not require prior council approval. The following sheds don't require prior approval:
sheds no larger than 10m² in the area after building work is completed (e.g. 3.1m x 3.2m)
no more than 2.4m high
a mean height of no more than 2.1m
no longer than 5m along any side
As a long-running Sunshine Coast storage and garden shed builder with a long-held reputation for superior quality, we are fully committed to delivering high quality projects to our clients. Our aim is to understand your requirements and provide solutions to suit in the most efficient and productive manner through the integrated services we offer.
Only the highest quality genuine Australian steel products are used in any of our buildings. Combine this with a professional and experienced team guarantees the final product upon completing your project meets all your expectations.
FREQUENTLY ASKED QUESTIONS
Why Choose SGI as your Garden Shed Builder