Superior Garages & Industrials
Horse Sheds built by the Equine Shed Builder Experts
Entrust the care of your horse to the experts – if you need a horse shelter builder on the Sunshine Coast, choose Superior Garages and Industrials. We build steel horse sheds and other equine structures. For an obligation-free quote, get in touch with our friendly team today!
QUALITY EQUINE BUILDING SOLUTIONS
We Specialise in Steel Horse Sheds and other Equine Structures

At Superior Garages, we offer affordable, unique, and customised equine sheds and structures across the Sunshine Coast region.

Superior Garages and Industrials are dedicated and professional horse shelter builders. We understand and implement important design and building elements to provide our clients with horse sheds that not only suit their needs and their horses' needs, but which are also in line with our clients' desired design and layout.
Craftsmanship You Can Count On
All of our equine sheds, stables and yards are manufactured using tough materials that are designed to withstand the harsh Australian climate. We can create basic horse sheds, or help you build a totally unique and customised equine shed specifically for your requirements. This could include custom options like personal access doors, portal frames and skillion roofs. We use durable Colorbond Steel for our equine buildings.
Benefits of Building with Steel
Quality Sheds, Built Locally.
Get in contact with our team for a shed building solution tailored for you. 
LOCAL STEEL BUILDING EXPERTS
Steel Horse Sheds, Stables, Shelters, Yards and More!
Our steel horse sheds are entirely custom designed to suit your specs and requirements. As a highly experienced horse shelter builder, we can design and build a range of structure types according to your needs.
Custom specifications can include:
Round yards
Paddock shelters
Riding arenas
Open fronts
Portal frames
Personal access doors
Roller doors
Day yards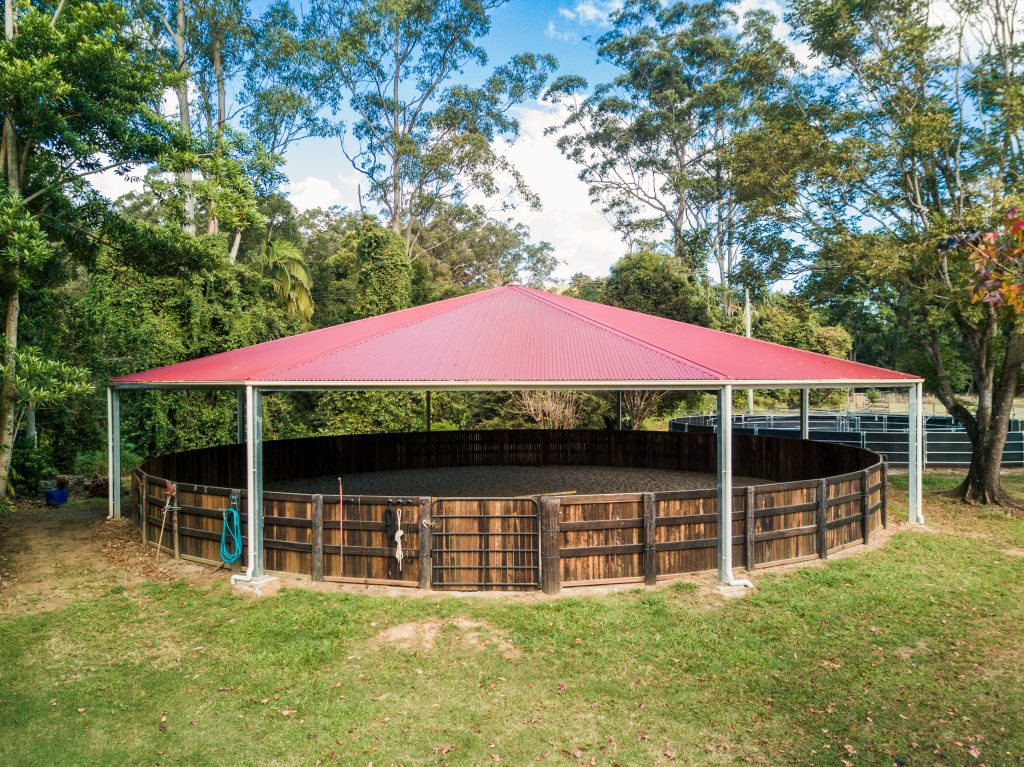 EXPERIENCED EQUINE SHED BUILDERS
What's Involved in Horse Shed Construction
We can construct a wide variety of sheds in different sizes and designs; from smaller sheds to massive steel constructed sheds. Before designing your shed, you must determine what size best suits your needs.
The minimum height and width must be considered if you intend to store large items. Also, check your local covenant as this may limit the size and designs of your equine shed.
The foundation type you require for your equine shed is dependent on location and soil type of your site, as well as building codes and council laws. Poorly laid slabs can result in some serious issues for the future of your shed's foundations, leading to a myriad of other structural issues and greatly decreasing the lifespan of your equine shed.
Thankfully, you can rest easy knowing that our fully qualified steel horse shed construction team will follow the engineered plans to the letter, leaving no chance for something to go wrong with the construction of your equine shed.
Durable Equine Shed Materials
Today, steel sheds can be constructed with a wide range of construction materials, helping to keep your shed cool, pest-free and tough! Steel built industrial shed buildings are no longer limited in design. These well-crafted industrial structures are fire-, rot-, termite- and decay-resistant.
Local Covenants, Building Codes & Council by-Laws
Dealing with local covenants and council by-laws can be a daunting task to the uninitiated. But at SGI, we have years of experience dealing with them. In-fact Superior Garages & Industrials guarantee that all our work is up to code and to the standards of local by-laws, leaving you free to design your dream equine shed!
FREQUENTLY ASKED QUESTIONS
Why Choose SGI as your Sunshine Coast Horse Shelter Builder